Dear friends and family,
The invitations have been sent out…which is probably what has brought you to this website.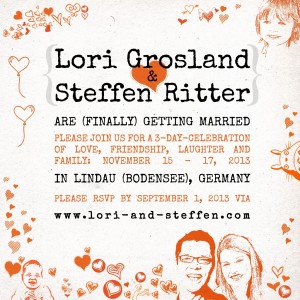 We hope you will be able to join us for our 3 day wedding celebration! Please check out this website for more information about our wedding weekend including accommodations at Villa Alwind and schedule of events.
We would love to have you join us for all of the wedding events, but realize this may not be possible.  The civil ceremony (standesamtliche Trauung) will take place in Lindau on Friday, November 15, 2013 at 11:30 am. If you have to work that day and can't make it to the civil ceremony, plan to arrive Friday afternoon or evening. Friday evening from 6 – 11pm we will be having dinner (with a Bavarian theme) at Villa Alwind and everyone will have the chance to get to know each other. The wedding ceremony (freie Trauung) takes place at Villa Alwind on Saturday afternoon at 4pm followed by dinner and a reception. We have reserved all the rooms at Villa Alwind for our guests, so you do not need to worry about accommodations for the weekend.
Please don't forget to RSVP! (Bitte zu- oder absagen!)
We are looking forward to spending a wonderful weekend with you all!
Lori & Steffen